Low-Complexity Media Fill Test Kit
$63.00
USP <797> COMPLIANT
Test Kit Contains:
■ 12 each – 10ml Vials Containing Test Media
■ 3 each – 50ml Empty Sterile Vials
■ Detailed Step-by-Step Instructions
■ Low-Complexity Media Fill Test Kit Log Sheet
Description
IVQA Low-Complexity Media Fill Test Kit will provide you the tools to comply with the Media Fill Test Procedure standards in USP on aseptic manipulation skills, including representative sterile microbial culture transfer and fill challenges. Our test kits are designed to document correct personal technique and effective environmental control for the preparation of low complexity compounded sterile products (CSP's). All employees compounding low complexity preparations must have successfully passed the low complexity media fill test procedure annually. Administration should maintain documentation of employees successfully passing the low complexity media test procedure and the timely annual reassessment.
Revised USP regulations mandate that training programs include a hands-on demonstration and practice with actual items such as CSP containers, devices and equipment. Regulations also require the caregiver practice aseptic and injection technique under the direct observation of a health professional. The caregiver is expected to demonstrate mastery of assigned activities before being allowed to administer CSP's unsupervised by a health professional.
IVQA media contains Tryptic Soy Broth, which helps detect evidence of a wide variety of microorganisms, especially common aerobic and facultative anaerobic bacteria.
In an ISO class 5 air quality environment, set up 3 sets of 5-mL vials, each set containing 4 vials (total of 12 vials).
Set up three 50-mL sterile crimp capped vials.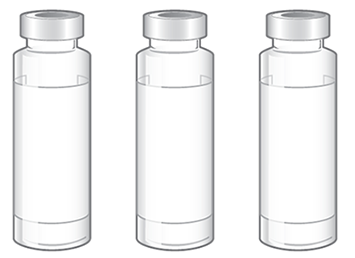 Now, by use of a syringe and vented needle combination, transfer all the contents of 4 of the vials into an empty 50-mL vial. This should be a total of 20-mL in each 50-mL vial. Repeat this procedure for Set 2 and Set 3. (Note: In the transfer process, insert the needle into the rubber stopper and empty the syringes contents.
Label each vial with the employee's name, and the date and time the vials were prepared.
Aseptically affix a sterile adhesive seal to each of the three filled vials (i.e. in addition to the stoppers, the top of the vial must be covered with another seal).
Incubate the three 50 mL vials at the 25 to 35 degrees of 14 days, if at the end of this time the solution is clear this denotes a pass, if it is turbid or has a precipitate this indicates a failure. In most cases, a vial that fails to pass will become turbid or develop precipitate within 7 days.
Once the test is initiated:
The test must be carried out to completion without interruptions.
Test performance conditions should mimic the usual work environment.
Appropriate Low-Complexity Use:
To understand when a Low-Complexity Media Test Kit is appropriate, below is a USP description of Low Complexity CSPs.

Low-complexity Level CSPs
CSPs compounded from sterile commercial drugs using commercial sterile devices
Compounding occurs in ISO Class 5 environment at all times
Compounding procedures involve only transferring, measuring, and mixing manipulations using not more than 3 sterile products and not more than 2 entries into each sterile container
Involves only a few closed-system basic, simple aseptic transfers and manipulations
ISO 5 engineering control must be located within an ISO 7 buffer area
At a minimum, all quality assurance, garbing, and visual inspection release check procedures outlined by this section are followed
Annual media-fill and other applicable competency testing completed for each person who compounds
Low-Complexity Level with 12-hour or Less Beyond Use Dates (BUDs)
All procedures as outlined for low-complexity level CSPs, except, ISO Class 5 primary engineering control (PEC) is not located within an ISO Class 7 buffer area
Preparations must be patient specific, based on a prescriber's order
Administration must start no later than 12 hours after preparation
Compounding area is segregated from areas including, but not limited to: unsealed windows, high traffic areas, food service, or construction to decrease contamination complexity
Sinks should not be adjacent to ISO 5 PEC
All quality assurance, garbing, aseptic technique procedures, competencies, and environmental testing outlined in the chapter apply to this complexity level
IVQA Instructional Videos
Low-Complexity Instructions
Additional information
| | |
| --- | --- |
| Weight | .65 lbs |
| Dimensions | .6 × .4 × .4 in |